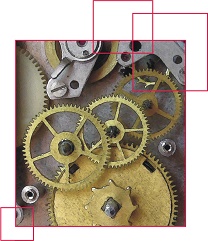 No Swiss Watch, if it had not been the Reformation ?

The Swiss watch industry has started in the middle of the 16th century in Geneva. In those days, not only big tower clocks, table clocks and wall clocks to be used at home but also portable watches were already produced in Europe, mainly in northern part of Italy, southern part of Germany and France. In the 17th century, the watchmaking in those areas gradually weakened, and at the beginning of the 18th century, Geneva became one of important centers of watchmaking.

Why watchmaking developed in Geneva?

The Reformation which took place in Western Europe in the 16th century had big influence on it. The Reformation (1517) is religious revolution stirred up by Martin Luther objecting to doctrines and practices in the medieval church (now, recall the world history lesson at school ! ). The movement spread all over Europe, and in 1541, John Calvin set about revolutionizing Genevan society. In France, the conflict between French Protestants (called Huguenots) and Catholic churches led to armed wars (The French Wars of Religion:1562-1598). The war ended as King of France proclaimed the Edict of Nantes, which granted to Hugnots the freedom of worship. However, during the struggles, many of Huguenots had left France fleeing religious persecution. Many of them refuged in "Calvin's Geneva", and many of these refugees were clock and watch makers.

Geneva at that time was known for jewelry by skilled goldsmiths and enamellers. But, the reform by Calvin regulated also people's life and behavior, for example, forbade wearing jewellery. So, goldsmiths and enamellers in Geneva got not to able to make a living. They gradually turned to watchmaking assisted by Huguenots who had the technique, and their talent, craft technique got new outlets in watchmaking.

By the end of the 17th century, number of Geneva's watchmakers grew, and organized. Shortly, the regulation of Calvin was relaxed, then, Geneva decorative art revived combined with watchmaking technique. Thus, Genevan watches became reputed for its beauty and quality.

In the 18th century, the watchmaking trade spread along the Jura Mountains. In the 19th Century, complicated watches such as self-winding, perpetual calendar, fly-back chronograph were invented. Swiss watchmaking industry has put up steadily its leading position in the world.